About Us

President and CEO
Seiichi Kido
Since 1986, KT Workshop has been importing, selling, and providing top-level support for the top security and crises management hardware and software from around the world. We continue to develop and search for the best solutions the world has to offer in order to meet the needs of any new or pre-existing customer.
Specialties
Security System Sales
IP Surveillance System Development and Sales
IP Camera Development and Sales
Access Control System Development and Sales
All related services and products
Company Profile
Name
KT Workshop Inc.
Zip
154-0004
Location
2F DS Sangenjaya
4-3-2 Taishido Setagaya-ku
Tokyo, Japan
TEL
+81-3-6450-8810
FAX
+81-3-6450-8812
URL
https://www.kt-workshop.co.jp/
Establishment
November 22, 1986
Capital
40,000,000 yen
Company Timeline
1986 Established as electric lock sales and installation company
1996 Start importing access control systems from Paxton Access of England
1998 Start importing electric strike locks from Trimec of Australia
1999 Start importing magnetic locks from Gianni of Taiwan
2000 Completion of Japanese localization of Net2 (Access Control System)
2000 Start nation-wide sales of Net2
2002 Start sales of Smartnet (Proximity Card System)
2003 Start sales and development of Mifare card readers
2004 Start sales of fingerprint readers from Bioscrypt of Canada
2004 Start sales of face-recognition systems from Toshiba
2005 Office relocation
2006 Start importing IP surveillance software from Milestone of Denmark
2006 Complete localization and start sales of Milestone's 「XProtect™」
2012 Office relocation
Office Location
Business Partner Introduction
International Business Partners
Our partners are the world leaders in the fields of IP surveillance software, IP cameras, and access control systems.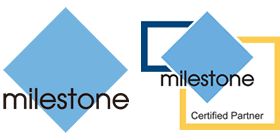 Milestone Systems
IP Surveillance Systems

ACTi
IP Cameras

Paxton Access
Access Control Systems
National Partners
Let us introduce to you our national business partners who sell, install, and provide support for our products:
Toshiba Automation Systems Services
NSK
Nippon Techno Lab
Kyoto Trust
Sano-Denki
KOTEN
Utsunomiya Lock Co.
Lifenet
inet
Tomita Syouji
Augus Corporation
YONEI
Teletony Inc.